Prenatal Yoga: The Khalsa Way
Over nine months of my pregnancy, I went through enormous physical and emotional changes. During that time yoga helped me to overcome my fears and connect to my feminine wisdom. Having a conscious pregnancy and giving birth to my son Arun at home was the most powerful and transcendental experience of my life. Trusting my intuition during labor and birth made me strong, safe and wise and these qualities have had a lasting effect. Now, I am more capable of helping other women and families who are going through the same process. I am convinced that when it comes to pregnancy and childbirth, nothing can prepare a woman's body, mind and spirit better than prenatal yoga.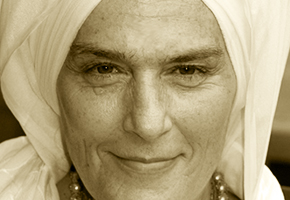 The method
The Khalsa Way™, is a holistic approach to pregnancy developed by Gurmukh Kaur Khalsa and based on ancient teachings learned from Yogi Bhajan, the father of Kundalini Yoga in the West. The founding principle of  this method is "As a woman lives, so shall she birth."
This method is unique in terms of its emphasis on community. Women celebrate together, sharing stories and experiences. They help and support each other. As a result, they're likely to develop friendships during the course of their pregnancy that will continue throughout their lives.
The classes
Loving, caring classes take mothers away from the stress and pressure of daily life and  create a space in which they can focus entirely on their inner selves and their pregnancy. Motherhood connects a woman to the Divine Mother. Your intuition opens, strengthens. Your sense of living beyond yourself, being able to sacrifice for another life, develops. It is the most important moment in a woman's life to promote calmness, radiance, joy and good health, and to ensure the right atmosphere in which her baby will enter the world.
Each prenatal yoga class includes stretching, strengthening (including squats and kegels), a 3-minute "keep up" exercise –to break through mental limitations–breathing exercises and meditations, as well as singing, dancing and of course relaxation. All are designed to uplift and inspire, allowing time to connect with your baby and each other.
The inspiration
Gurmukh Kaur Khalsa, is an internationally renowned prenatal yoga teacher best known for teaching celebrities such as Cindy Crawford and Madonna. Gurmukh's success and notoriety, however, rides on her unique ability to empower women to be stewards of their own birthing experience. In her teachings, Gurmukh provides expectant mothers the tools to strengthen their body, prepare, quiet their mind and tap into their innate spiritual self. Gurmukh is the co-founder and director of Golden Bridge, the premier center for Kundalini Yoga and Meditation in Los Angeles, CA, and in New York City.
"You can change the destiny of the child just by the way you breathe, just by the way you move."
Gurmukh Kaur Khalsa