Jivamukti Yoga
LOKAH SAMASTA SUKHINO BHAVANTU
May all beings everywhere be happy and free and may the thoughts, words and actions of my own life contribute in some way to that happiness and to that freedom for all.
For me Jivamukti Yoga is a lifestyle. This method, which I study and teach enthusiastically, provides the sustenance for my compromise with the world.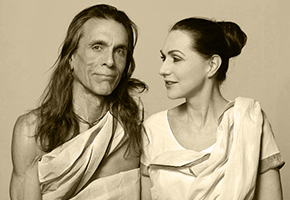 The method
The Jivamukti method of Yoga is one of the nine internationally recognized styles of Hatha Yoga. Jivamukti Yoga was created by David Life and Sharon Gannon in 1984 in New York. This method reintegrates the physical, philosophical and spiritual aspects of Yoga. David and Sharon became teachers because they were passionate about communicating Yoga as more than just a system of exercises, but also as a spiritual practice; a path to enlightenment. From their earliest classes, they have taught a living translation of the Indian system of yoga in a way that western minds can comprehend. That is why Jivamukti Yoga® emphasizes vigorous asana as its primary technique, but other practices such as meditation, devotional chanting and study of the ancient texts play an important role as well.
The name
"We chose the name Jivamukti (pronounced Jee-va-mook-tee) Yoga to reflect the true aim of yoga, which is liberation. Jiva means individual soul and mukti means liberation. The exact transliteration of the Sanskrit word from which Jiavmukti is derived is jivanmuktih, which means liberation while living. The name Jivamukti Yoga reflects the fact that it is possible to have a beneficial and fulfilling life in the world, and also progress spiritually-perhaps even attaining liberation (Samadhi) while living."

Sharon Gannon and David Life


The classes
It is a vigorously physical and intellectually stimulating practice combined with an equally strong foundation in the ancient spiritual traditions of Yoga.
Jivamukti Yoga features five disciplines which form the foundation of the practice and are incorporated into every class:
Scripture — Study of ancient yoga teaching, including Sanskrit chanting.
Bhakti — Acknowledgement that universal consciousness is the goal of all yoga practices.
Ahimsa — A non-violent, compassionate lifestyle which emphasizes ethical vegetarianism and animal rights.
Nada — The development of a sound body and mind through deep listening.
Meditation — Connecting to that internal unchanging reality within.
The inspiration
Founders David Life and Sharon Gannon incorporated their study of Ashtanga Yoga with spiritual teachings, placing special emphasis on how to apply yogic philosophy to daily life. These artists and spiritual gurus have spent more than twenty years of their lives in service to yogic principles and have introduced a lot of people around the world to the spiritual benefits of Jivamukti Yoga through their Jivamukti Yoga School in New York City and centers in London, Berlin, Munich, Sydney, and Charleston S.C.. They are often credited with redefining yoga in the West and making the practice of yoga as popular as it is today.
"No one can do yoga. Yoga is who you are. It is your natural state. What we can do are practices that reveal to us our resistance to existing in a natural state."
Sharon Gannon and David Life